Attract The Right Job Or Clientele:
A visit to the Spy Museum in D.C. prompts today's question, are you willing to push beyond common sense? The exhibits are state of the art to include video, interactive games, and visuals for engaging the broadest possible audience.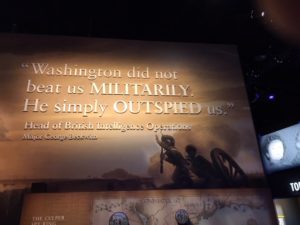 The displays also provide historical facts about how brave souls helped to combat evil. Most surprising are the famous individuals who were undercover spies. Some of their videos and stories are on display.

A Google search provides the surprising article, "13 Famous People Who Were Actually Spies, And They Were Good At It."
 In addition to providing much to think about, visitors to the Spy Museum will leave with new perspectives on business, politics, and life.
My Story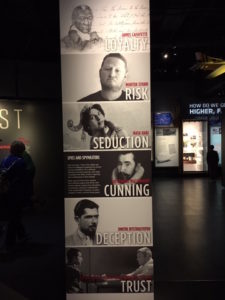 What do being a spy, operating a business, and being in sales have in common? No matter our endeavor, we sometimes wonder if there is a need to push beyond common sense. Although I would not choose to be a spy, I am known for going beyond what others will view as common sense.
The use of all our senses puts each of us above the crowded field.
My thought is:
There is little to gain being among the crowd
Unless we try what is on our mind, we will never know if it works
A unique approach that does work will launch us forward.
Most of us work to build trust with our clientele to earn continuing business and referrals. Likewise, partnering and collaborating with others gives us a broader scope of ideas for moving past the current common-sense notions.
The caution is moving into unfamiliar territory can raise the question of right or wrong. Ethics in business has always been an issue and becomes more complicated over time. We are in the midst of a fourth industrial revolution, that of robotics and artificial intelligence.
The Intelligence Community will be taking on more than ever imagined for keeping countries secure. But how far should we allow the monitoring of citizens to push beyond common sense?
Monitoring Industry News
The savvier corporate salespeople read about and monitor their competition, and skillfully determine the differentiators among themselves. Next, they succinctly communicate the differences to build the company brand. The top earners are also up to date on the industry news.
Once we build trust with the prospective client, the skillful salesperson will take an extra step.  She will tactfully ask two questions that provide greater insight into the competition:
What do you like best about the current vendor?
What do you wish you could improve regarding the current product or service?
The answers provide direction for how to best proceed for earning future business.
Entrepreneurs may believe they are one of a kind in their space without competitors. In one sense, that may be true. However, we all subscribe to public platforms where we share information. Communication techniques will either grow or detract a wider audience. Read what others say for you to further distinguish your brand from all the others.
For More Insights Read:
How You Lead Predicts Results
Do You Combine Artificial Intelligence With Human Selling?
Do You Realize Hesitation Can Ruin Opportunity?
Do You Methodically Uncover The Facts?
Are You On Target For This Year's Finish Line?
Your Story: Are You Willing To Push Beyond Common Sense?
As we come close to finishing out this year and beginning anew, are you content with continuing the flow? Or do you believe there are some adjustments to make?
Protecting Your Name and Work Protects The Bottom Line
How secure are your business plans and strategies? All practices, particularly that of social media, are to have a review before year-end. You want to move forward in the New Year without having unfortunate clean up come your way.
Do you consider these potential issues:
Are your ideas likely or unlikely to be stolen
Is your client data protected
Do you monitor online postings
Do you have filters on your email and mark some as junk
Do you avoid clicking suspicious links or answering unrecognizable phone calls?
While these questions sound pessimistic, they are necessary for keeping us alert and out of trouble. Protecting your name and work are essential for continuing in the years to come.
Sales Tips: Are You Willing To Push Beyond Common Sense?
Observe everyone around you
Notice the habits of others
Learn to read facial expressions and body language
Ask questions as soon as you see a shift
Uncover the motivation of others for moving forward
Inquire as to how your prospect sees improvement
Initially, advance the conversation according to your prospect's thinking
Ask your prospective client if they will consider your idea and their reasoning for the decision
Use 'what if' questions as a negotiation tool
Celebrate Success!
Today's Blog is provided to help you achieve the Smooth Sale!
RESOURCES FOR PERSONAL AND BUSINESS GROWTH: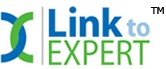 "It is not who you know – it is who knows you and what your expertise can do for them plus understands the value of hiring you." 
A one stop platform for both your social connections and marketplace.  Sync and syndicate your apps.  Showcase your talent, brand, and offerings; connect, and earn money. Click this link ~ No cost to join!


Powered by Intellum, providing expertly curated content on the most sought after topics.
The post Are You Willing To Push Beyond Common Sense? appeared first on SmoothSale™.