Author and editor: Meet Deanie Humphrys-Dunne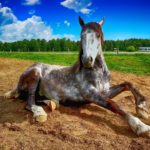 Recently I had the honor of being interviewed by award-winning author and entrepreneur, Ndeye Labadens. We discussed my books and the importance of good editing. Anyone who is an author, or would like to become one wants to present their best efforts.
Based on your experience after a few books. (specify the number of books with a brief presentation). What would you tell newbies, writer?
At the present time, I have published six award-winning children's books, although my first book, Tails of Sweetbrier, was replaced by a new, expanded version. The titles of my books include; My Life at Sweetbrier, Charlie the Horse, Charlene the Star, Charlene the Star and Hattie's Heroes, and Charlene the Star and Bentley Bulldog. Each book focuses on powerful life lessons for young readers such as, perseverance, setting goals, or helping others.
What was your motivation to write your first book?
The objective of my first book was to encourage children not to fear new challenges, or new adventures that other people may say are impossible. My parents always told each of their children that many things can be changed if you persevere and that you can't tell what you can do until you try. I think many children don't receive enough encouragement to follow their dreams.
I'm a graduate of two courses with the Institute of Children's Literature. I learned a great deal about which elements you need to include in a well-written children's story. For example, you must present a problem early in the story that your main character must solve. After the course, I gained more confidence about my writing abilities and was able to edit my book. Early in my writing career, I found it necessary to edit my work many times so my best work was well-prepared for publication.
If you were able to email yourself in the past what would be the most important thing you would like to write to you before your first launch?
I would have told myself that promotion before the launch is essential because readers must know you are planning a new book well before it is released.
Where would any member of my audience find you for your services?
Your audience my contact me through either of these two Facebook pages:
https://www.facebook.com/DeanieHDunne 
https://www.facebook.com/Memories-of-Sweetbrier-Farm-Easton-CT-1736497933252082/
or my email: This email address is being protected from spambots. You need JavaScript enabled to view it.
Thank you very much for chatting with me today. I enjoyed spending time with you and look forward to hearing from your audience.
See you at the next Promotion events!
https://www.linkedin.com/pulse/meet-deanie-dunne-interview-ndeye-labadens/
Ndeye Labadens 
Your Host,
The post Author and editor: Meet Deanie Humphrys-Dunne appeared first on deaniehumphrysdunne.wordpress.com.