Do You Use Mentoring to Build Business?
Attract the Right Job or Clientele:

Do You Use Mentoring to Build Business
Multiple methods are available for using mentoring to build a business. Whether you are seeking a new job or wanting to advance your company, consider the possibilities. Everyone has a unique experience and can contribute to the conversation.
My Story
A talented marketing person once advised me to use social media as a mentoring platform.  I was to give away my best insights for the conversation to continue.
There are always two sides to every story. Others said I would lose everything if I were to give away insights for free. But the opposite happened.  My following steadily grew.
As we continue to mentor, we are witness to:
Larger followings
Greater brand awareness
An increase in clientele
Additional opportunities for further growth
Client loyalty including referrals and testimonials
As an entrepreneur, helping communities ultimately will add to your revenue stream. Hearing the first-hand the troubling questions of your audience, ideas and introductions grow. For example, after years of helping job seekers land their desired position, I wrote the book, HIRED!  I then took on creating a career fair with another. The gathering attracted free TV spots and a grateful crowd of job seekers. The appreciation expressed made the reward enormous.
Join Me This Week for An Example of Mentoring:  CANCELLED – future notice will be provided.
John Golden of SalesPop! Pipeliner CRM and I are hosting #SalesChats April 5, 9:00 a.m. PT / Noon ET
The topic is "Never Give Up but Find A Better Way."   
On the corporate side, mentoring in action will reduce turnover. Keep the conversations private between new employees and the experienced. Confidential communication helps diagnose where the lack of knowledge resides to make improvement.
Incorporating mentorship into a company business plan will accomplish a lot. Senior citizens are the ones with experience.  Yet the Seniors are continually turned down for employment. Financial matters take on a more serious tone as we live longer. It was revealed that on average, men live to be 85 and women 90 years of age. Most people do not come close to saving enough to last their lifetime.
Paying seniors to mentor newer employees offers multiple benefits:
Younger employees will gain knowledge more quickly
Extra income for seniors will help many remain financially independent
Senior people will be employed and rewarded knowing they are helping others
Both the company bottom-line and morale will improve
As more companies embrace mentoring the economy will also improve.
Your Story for Mentoring
You may be so busy building your career that you think you do not have time to mentor a person or get involved with a community. Fear may be in the picture because you do not believe others want your expertise.
The better place to begin is to ask yourself:
Which organizations intrigue me
What do I wish I knew when I started
Is there a possibility for me to be of service?
Once you refine the possibilities that are of interest, begin the research process. Examine websites, have a conversation with the organizer.  And potentially visit a group meeting in your area. Similar to making a qualified sale, find the right match and sell the service you may provide.
Should the corporate climate be of interest, begin building a case as to why HR and management are to give mentorship a try. Story-tell to sell your idea. Provide examples of how you received help to enjoy advancement. Share your vision for how the company will save money by having mentoring available for employees.
Once in, keep a journal of the advancements you help others achieve.  As success takes hold, increase the outreach. Should more individuals and companies buy into this idea, we can make strides for improving the social outlook.
Sales Tips
Determine which organizations motivate you to learn more
Research websites to uncover the most appealing
Contact the executives or committees for exploring possibilities
Have a conversation to exchange visions and ideas
Qualify and match the best fit for contribution
Begin by inquiring about the biggest concerns the community faces
Ask open-ended questions when tempted to propose your ideas
Gain consensus on how to approach the group
Provide everyone with encouragement and motivation
Celebrate Success!
These tips lead to The Smooth Sale! 
         

Book Packages Available ~

email:

This email address is being protected from spambots. You need JavaScript enabled to view it.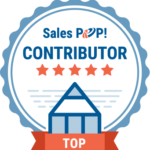 The post Do You Use Mentoring to Build Business? appeared first on SmoothSale™.