Going to a magnet school…or not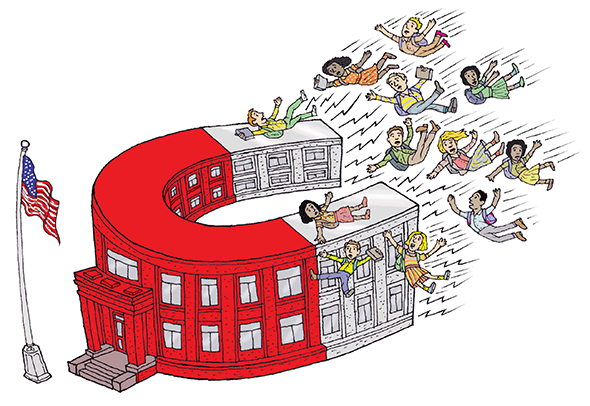 As fifth graders end their time in elementary school, the majority of them will move on to the local middle school. But for those with an aptitude for math, science or technology can apply to go to one of the school district's three magnet school.
(A magnet school offers special instruction and programs designed to attract a more diverse student body throughout the school district.)
When Jase was in fifth grade, he had no desire to even look into these schools. Not so with Lexie. She was immediately interested in one of them – Design and Technology Academy (DATA). They had computer animation classes which interested her.
We went to a presentation by the magnet schools. Two of them are done on a lottery system and one is done based on merit though all of them do have minimum grade average and a requirement that you have passed the most recent state testing.
Lexie was still interested so we filled out an application for DATA and signed up for a tour. She was positive that this would be a better fit for her than going to the middle school her brother attends. And then about a week before the magnet schools would announce who got in, Lexie's fifth grade class toured Jase's middle school. Lexie came home excited about going there.
Suddenly, she didn't want to go to DATA. I told her that is she got in, she would need to weigh the pros and cons of each school before she made her decision. As it turns out, we didn't have to do that. Lexie didn't get in and was placed on the waiting list. At any time between now and when school starts in August, they could call us to tell us they have a spot for her.
And just last Thursday, we got the call that a space had opened up for her. I didn't know if I should decline as Lexie had already accepted that she was going to the local middle school or if she might change her mind knowing DATA was still an option.
It was lunchtime so I went up to her school and told her the news. DATA needed to know that day her decision. Lexie thought it about for the rest of the day. She was torn between the two but in the end, she stuck to her decision to go to the local middle school. She had already picked out her classes for next year and had plans to walk with her brother and his friend to school. Plus her friends would be going there too.
While I respect her decision and believe she can do well at the local middle school, I am a little sad that she didn't go to DATA. It would have been a challenging, interesting experience. But it is probably all for the best. Now, I won't have to split my time between two schools. And I won't have to pry her out of bed for the bus (which comes way too early for my late sleeper.)
And I am sure she will get a good education at the local middle school which is one of the best in our school district.
By accepting you will be accessing a service provided by a third-party external to https://authorsdb.com/