My first pony-Little Man
When I was a little girl, my big dream was to become a good rider and compete in the big shows. But, even champions have to start somewhere, right?
So I stated my riding career with a fuzzy brown little pony named Little Man. He looked so cute-like a stuffed toy. But he liked to be naughty. He was a rascal. I tried to improve his mood by giving him a sugar cube before I rode. But my strategy failed. Whenever Little Man got sleepy, he's lie down. The fact that I was on his back didn't matter. I'd get up and tell my daddy that Little Man was sleeping again.
Still, Little Man was a good beginner pony. At least he didn't have other tricks in his magic bag. For example, he didn't buck me off. Maybe because that would take too much energy.

Another redeeming trait for Little Man was that he was small so if I happened to fall off, I wasn't far from the ground; comforting, isn't it?
Little Man still gets credit for being my first pony, so he'll have a space in my heart, rascal or not. We all need to remember before we win, we begin.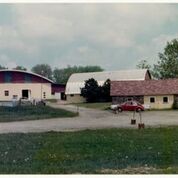 Sweetbrier, showing the barns and indoor ring on the hill.
The post My first pony-Little Man appeared first on deaniehumphrysdunne.wordpress.com.
By accepting you will be accessing a service provided by a third-party external to https://authorsdb.com/