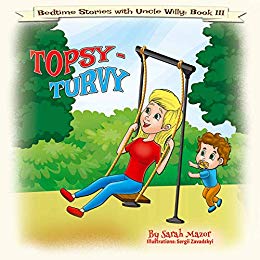 Extraordinary fun and learning for the little ones!
Reviewed in the United States on January 21, 2020 Format: Kindle EditionVerified Purchase Sarah Mazor writes wonderful, educational and entertaining stories for young children and book 3 of Uncle Willy's Bedtime Story: Topsy Turvy won't disappoint you. The setting is a mixed up town called ComeGo, where people and animals are never quite what you'd expect. For example, at night, instead of wearing pajamas, the little ones sleep in their best suits. Generally, you'd see a horse pulling a cart, but in ComeGo, you'll be surprised to see the horse sitting proudly on the seat,while a person tows the cart! When you meet the cows, they don't moo. Instead, they jump around catching Frisbees, barking and wagging their tails. What happens in ComeGo when you wan?t t greet your friends? Did you guess they shake hands and say goodbye?
This story is fun and giggles from cover to cover. Not only that, but little ones will adore the Think, Imagine, Write and Draw section where they can create wonderful masterpieces of their own. Not only that, but they practice their rhyming skills and see if they can choose the right answers to the riddles at the end. As always, the illustrations are adorable. One of my favorites is the picture of the lion slurping his noodle soup! This book is an absolute treasure you must have for your children. They will cherish it.
Review by children's author Deanie Humphrys-Dunne
copyright 2020: Deanie Humphrys-Dunne
The post Review of Uncle Willy; Topsy Turvy book 3 appeared first on deaniehumphrysdunne.wordpress.com.