The picnics at Sweetbrier
The Humphrys family estate
You may  know I grew up on a beautiful riding school called Sweetbrier. My life there was full of adventure and surprise. Of course not all surprises were welcome. For example, my parents loved traveling in their big green motor home we named "The Jolly Giant." Before leaving, my dad would gather the barn help together and remind them of their tasks. They'd confirm they were willing to arrive at work, no matter what stood in their way. But how about once the Jolly Giant rolled down the driveway, headed to the great unknown? Ah, then came the chance for the troops to abandon the team. If not that, the tractors and other equipment loved to act up at the worst time. So, things were never dull at Sweetbrier.
But we did have fun traditions. Like the picnics at Sweetbrier every fourth of July. Mom bought enough food to feed half the town, it seemed. She'd visit the lady down the road for her wonderful egg salad recipe, but instead of giving her the recipe, that neighbor would make the German potato salad herself. Mom never got the recipe and she felt no one else's potato salad was the same.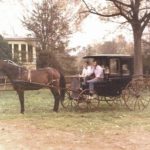 Bob Mackellar, George Blake and the carriage pulled by Miller Clay photo by Peter Armstrong
Sometimes,  Mom bought a new outfit for me to wear at the picnic. Many relatives came to spend the afternoon. Besides stuffing ourselves with yummy food, Daddy would offer our guests rides in one of our antique carriages. We had a few horses who loved pulling the carriages, Miller Clay and Laddie, for example. They were unflappable and enjoyed pulling the carriage.
One of the picnics at Sweetbrier was particularly memorable.  Are you wondering why? It was the day I met the young man who would become my husband. He was invited by a family member. If you're wondering, yes, I got a new dress for that day. Naturally, I was nervous, as Francis became my first boyfriend. Panic-stricken, I asked Mom" "What should I do when I meet him?" Her advice was, "Just be yourself, honey."
I hardly talked during the picnic that day, but my future husband went home and told his mom, "She's cute, I'm going to marry her someday." How amazing is that?
Copyright 2018: Deanie Humphrys-Dunne
The post The picnics at Sweetbrier appeared first on deaniehumphrysdunne.wordpress.com.
By accepting you will be accessing a service provided by a third-party external to https://authorsdb.com/