Therapy horses: Healing powers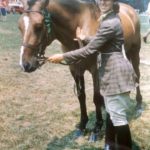 Deanie and Do All picture from "My Life at Sweetbrier"
You may have heard about therapy dogs, but what about therapy horses?   Do you know what their job is? They help children to have fun and experience the thrills of riding.  Not only that, but riding horses improves their motor skills and muscle strength.
Today I read about a brother and sister who ride at an equine therapy center. Their parents remarked about how much riding has helped their children. In fact, their son is in a wheelchair, but he loves riding horses. It has built his confidence and self-esteem while he's having fun relating to his horse. If you have a child with a disability, it's a great idea to support a therapeutic riding center and the  therapy horses they love.
Do you love horses? If you do, be sure to check into donating to a therapy center in your area. Like you, I love horses and they played a big role in my life. When I was born prematurely, doctors assured my parents I'd catch up with my milestones in time. But when I didn' t walk at nearly four-years-old, they became concerned. My dad took me to a specialist. After the doctor announced I'd never walk, my dad picked me up, had strong comments for the doctor and told me not to worry. He said, " Don't pay any attention to what the doctor said because I'll teach you to ride and you'll be fine." That day, my life changed dramatically. My daddy knew the healing power of horses.
I took baby steps at first, spending most of the time falling into Daddy's arms. But I did walk. Not only that, but also we surprised everyone. At first, I developed skills to fall off my pony and get back on because no one in our family was allowed to quit.  After six years of riding every day, I began a new venture-learning to jump. My huge dream was to become an equestrian champion. It was not an easy journey. In fact, here are my thoughts, as expressed by Becky Lynch:
"I wasn't born to be a champion. I fought to be a champion." – Becky Lynch
Today, I write books to inspire children. May you always follow your dreams because  you never know what you can do until you try.
If you love horses, please follow this link to learn about my book, My Life at Sweetbrier
goo.gl/n1HEHE
The post Therapy horses: Healing powers appeared first on deaniehumphrysdunne.wordpress.com.
By accepting you will be accessing a service provided by a third-party external to https://authorsdb.com/