vision: Mom's pony, Chiefie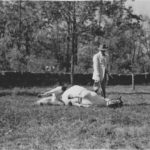 My dad had many natural gifts. One of them was having a vision, or an idea of the way things would turn out. For example, he'd often buy horses in need of retraining, or underweight horses.  He'd often say, "When this horse fills out, he'll look completely different." Daddy had an uncanny ability to instantly recognize a horse's potential. It was as if he could foresee the horse when it reached its highest degree of success.
I was very young when my dad bought an Arabian pony stallion named Chiefie, for Mom. Daddy had big plans for him. Chiefie was headstrong at first. In fact, in his early training, he lunged at Daddy and bit him in the shoulder. Daddy recognized from the beginning that Chiefie wasn't an ordinary pony. He was super intelligent, which may have been part of the reason he was not easy to train. So what did Daddy plan for all Chiefie's intelligence? He chose to teach the pony to do tricks. My dad spent countless hours teaching Chiefie to sit, lie down, count, play dead and more.
Mom and Chiefie took trail rides late in the day. She never worried if it was dark when she was heading home because Cheifie would bring her home safely. She had a remarkable connection with him. In fact, she stayed up all night when Chiefie had an abscess in his throat. Chiefie was struggling to breathe. She held warm compresses on his throat until the abscess broke and Chiefie was feeling much better.
When I was about 8 years old I longed to do something special. My sister was already competing in horse shows, but I wasn't ready for that. What happened next? Daddy decided Chiefie and I could do exhibitions together. Daddy stood in the center of the ring giving commands like walk, trot, canter. Afterwards, he'd call us to the center of the ring and lift me off Chiefie's back.  Then Chiefie would count, sit, and play dead.  What an amazing pony he was.
What if Daddy didn't have the vision to predict Chiefie would do wonderful things? Think of the adventures we would have missed.
copyright Deanie Humphrys-Dunne
The post vision: Mom's pony, Chiefie appeared first on deaniehumphrysdunne.wordpress.com.
By accepting you will be accessing a service provided by a third-party external to https://authorsdb.com/