What if?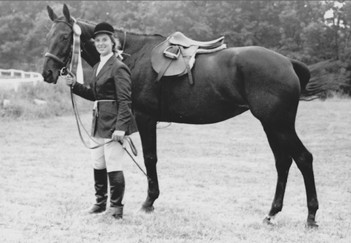 From My Life at Sweetbrier
Have you ever wondered how your life would be different if something hadn't happened? For example, what if my dad didn't teach me to ride horses after a pediatric specialist said his little girl would never walk? I'd have missed much of what I love to do. Isn't it amazing how a single decision can change your life?
My dream was to become a champion equestrian. That meant I'd have to beat the odds. But fortunately, my parents said I could accomplish anything I wanted, if I persevered. Did you know the average person can begin learning to jump after just a few months of lessons? Imagine how frustrated I felt when it took me six years of riding every day before I stared down at my first jump. I remember how gigantic it looked. I said, "Daddy, couldn't you make it a little lower? But he said, " If I made it lower, there'd be nothing to jump. Later on, I realized my first jump was closer to the size of a healthy anthill than a jump. But I was so excited I yelled,"Daddy, I jumped! I jumped."
That was the start of a long journey. There were days when I fell off for no reason other than my legs were tired and I slid off. Or my timing was off and I thought my horse would take another stride before he jumped and I was wrong. But the good thing about having to work hard to reach your goals is when you get there, you feel amazing, as if you accomplished something special. That said, I wouldn't have changed anything. I did realize my dream of becoming an equestrian champion, many times.
My message to everyone is to set your goals, write them down and focus on the outcome you want. In my experience, perseverance is the key to success. You may accomplish much more than you think.
copyright 2019: Deanie Humphrys-Dunne
*reblogged from Medium/ Deanie Humphrys-Dunne
The post What if? appeared first on deaniehumphrysdunne.wordpress.com.
By accepting you will be accessing a service provided by a third-party external to https://authorsdb.com/