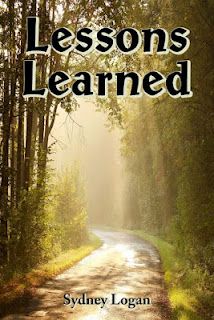 A young girl needs to spread her wings, but a young woman needs roots.

English teacher Sarah Bray never thought she'd return to Sycamore Falls, but a traumatic event at her inner-city school leaves her desperate for the sanctuary of home. By returning to her roots, an older and wiser Sarah hopes to deal with the demons of her present and confront the ghosts of her past.

She discovers a kindred spirit in Lucas Miller, a teacher from New York with demons of his own. As the newest faculty members at Sycamore High School, they quickly become friends – bonding through Lucas's culture shock and their mutual desire to build new lives. When they open their wounded hearts to each other, their friendship effortlessly evolves into romance.

Their love is put to the test when Matt, the quarterback of the football team, shares his deepest secret with Sarah. When the conservative community finds out, Sarah and Lucas – along with the town of Sycamore Falls – are schooled in the lessons of acceptance, tolerance, and love.
---
It's Christmas Eve, and Melanie Taylor is on a mission to find the perfect gift for her husband.

Something special. Something expensive.

Something that will save her marriage.

Can a chance encounter on an elevator make her Christmas wish come true?
---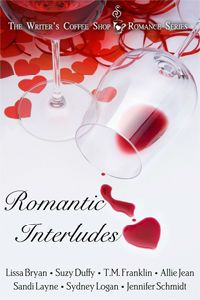 The Writer's Coffee Shop Publishing House gives its readers seven spicy, sweet, and sassy stories guaranteed to satisfy.

What happens when the God of love is smitten by a mortal woman? Or when a marine comes home from overseas and wants a second chance with the one he let get away?

From a greeting card writer who hates Valentine's Day, to a matchmaker who doesn't believe in love, to a young couple who has to face fears from the past before then can accept their future – Romantic Interludes includes seven tales of love from these authors:

Lissa Bryan
Suzy Duffy
T.M. Franklin
Allie Jean
Sandi Layne
Sydney Logan
Jennifer Schmidt

Whether in an emergency room or flower shop, love is in the air. From first glances to second chances, this bundle of romantic stories will get your heart racing!

The Golden Arrow and the Butterfly: When one of his arrows goes awry, Eros whisks the beautiful, modern Psyche to his home on Mount Olympus. He keeps her blindfolded so she doesn't fall in love with the first man she sees. But what if love is blind after all?


The Gentleman Gardener: Becky longs for something beyond small town life and her job at The Little Flower Shop. Perhaps a handsome stranger with terrible taste in flowers will be the one to give her what she's been missing.


A Piece of Cake: Emily Valentine walked away from her gift and her family's legacy, instead trusting in science to help others find love. But when cake designer Sam Cavanaugh is matched with her latest client, she just may find the heart trumps reason.


Dissecting Lies and Intentions: After the less than stellar ending to Christine and Mitch's relationship, she has gone out of her way to avoid him. When she finally works up the courage to confront him about his lies, will she be able to forgive and let go of the past?


Justin's Second Chance: Ten years ago, Justin Clark walked away from April Peterson. Will a chance encounter with the beautiful widow and her daughter be the second chance that Justin has longed for?


Stupid Cupid: Jada Morgan hates Valentine's Day and especially Cupid. Perhaps single father Nathan Reynolds will be the one to change her mind.


Two Pink Lines: After twelve years of friendship, Memphis and Kennedy Adams took a risk that changed their lives forever. Will two unexpected pink lines destroy their blissful world or will Kennedy be able to overcome her fear of the past.